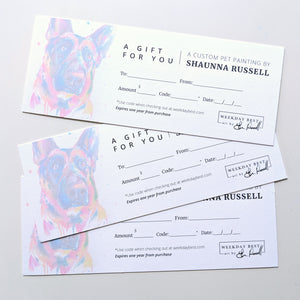 Gift certificates are for any purchase of art or merchandise by Shaunna Russell, including commissions.  Gift certificate holders must wait for batch releases to apply certificate to a commission.  An exception applies to gift certificate purchases of a whole commission, size 8"x8" and may bypass the wait time and be added to the standard calendar as soon as photos are received.
All gift certificates will be mailed via USPS, unless specifically requested in downloadable format.
Gift certificates expire one year after purchase date.